5 reasons to become a financial advisor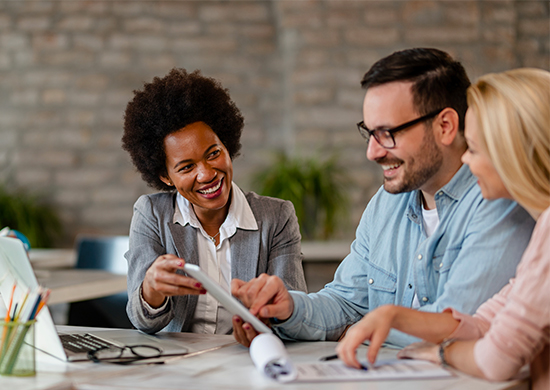 A career opportunity that's more than just a job.
Are you looking to make a career change? Here are 5 reasons that should convince you to join SSQ Financial Services Firm as an advisor.
1. Be your own boss
Would you like to be self-employed?
As a financial security advisor, you are your own boss and you manage your time as you see fit (flexible work schedule and work from home).
Unleash your entrepreneurial spirit and take your career to new heights. Over time, you will build a customer base that will have a monetary value upon retirement or when you decide to stop your business. You create the business structure that will enable you to best serve your clients.
You'll be self-employed, but not alone! In fact, you'll be joining a thriving company with a strong 75-year history. You'll be able to count on our expertise to help you hone your skills and develop your company's best practices throughout your career. In fact, you will be coached and trained by a dedicated management team.
2. Income that matches your ambitions
There are no limits to the income you can make as a financial security advisor.
Forget salary scales! You'll have all the flexibility you need to reach your target income.
Furthermore, you will have income security because you will be paid for services rendered and follow-ups with clients.
3. Quality products
Give your clients access to quality insurance and investment products that will ensure their and their loved ones' financial security and help them prepare for retirement.
4. Develop strong client relationships
As an accident and sickness insurance representative or a financial security advisor for SSQ Financial Services Firm, you'll gain access to a well-established customer based that you can grow over time.
Thanks to personalized advice, you will be able to help your clients prepare a financial plan and make informed decisions based on their needs.
5. Joining a major player
Joining the ranks of SSQ Financial Services Firm means joining a major play in Quebec's insurance and investment industry.
Our enviable reputation will help you bolster your business plan and create a bond of trust with your clients.
You can also take advantage of our business and client networks to develop your own customer base.
Our thriving business model is the sign of a bright future! In fact, you will be given an allowance to help you start your business.
To find out more about a career as a financial security advisor or to submit your application, contact us.
Insurance advice that reflects your reality